How Web Design in Utah Can Affect Your Business's SEO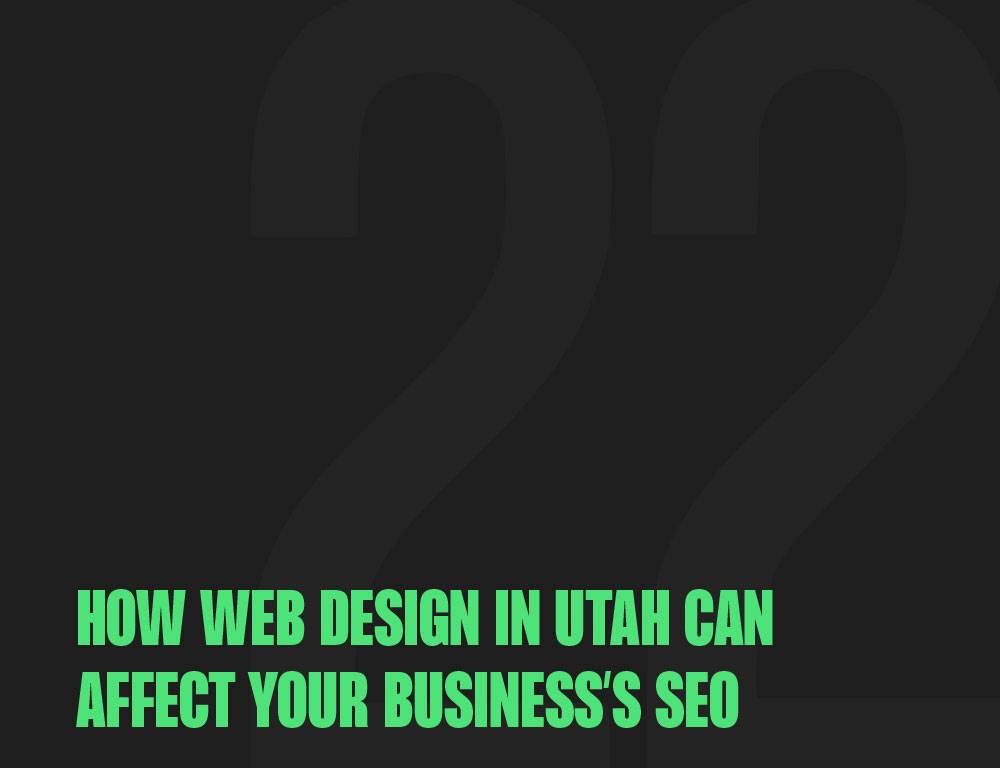 In today's digitally-driven world, Utah businesses recognize the immense value of a strong online presence.
The design of your Utah-based website doesn't just shape its aesthetic appeal; it plays a pivotal role in your SEO outcomes. Here, we'll uncover the intricate relationship between Utah web design and SEO.
Why Utah Web Design and SEO Matter
In the Beehive State, where businesses are flourishing, standing out online is crucial. Your website's design is often your first impression on potential clients or customers. Combining SEO with compelling Utah web design ensures that locals and those beyond can find and appreciate your offerings.
Historical Context: Utah Web Design and SEO Evolution
Once, web design, especially in growing tech hubs like Utah, focused primarily on visuals, while SEO was a matter of keyword stuffing. As search engine algorithms became smarter, they prioritized user experience, tightly intertwining Utah web design and SEO.
Key developments include:
Mobile-first indexing: Recognizing the shift towards mobile browsing, even among Utah residents.
Page Experience Update: Emphasizing the importance of user experience, which Utah web designers now prioritize.
The Interplay: Utah Web Design Elements Influencing SEO
Mobile Responsiveness: With many Utahns searching on-the-go, a mobile-optimized site isn't just nice to have; it's imperative.
Website Speed: Flashy design elements might look appealing, but if they slow down your site, they might deter users and search engines alike.
User Experience (UX): A confusing design can push visitors away. High bounce rates can send negative signals to search engines about your Utah web design.
Content Visibility: Hidden content might be a design choice, but it might not rank as effectively in search engines.
Expert Insights: The Importance of Location-Specific Web Design
Utah SEO experts often emphasize the significance of tailoring web design to local preferences. As Rand Fishkin, co-founder of Moz, suggests, understanding the local audience's needs and preferences, like those in Utah, can drastically impact online success.
Practical Tips for Utah Web Design and SEO Harmony
Highlight Local Utah Elements: Incorporate local landmarks or culture into your design to resonate with local users.
Optimize Images: Using images relevant to Utah? Ensure they're compressed and use alt tags describing the local context.
Prioritize Readability: Use fonts and colors that reflect Utah's aesthetic while ensuring readability.
Leverage Local SEO: Integrate location-based keywords like "Salt Lake City" or "Provo" alongside your services.
Addressing Skepticism: Is Localized Web Design Really Necessary?
While some might argue that global designs can cater to all, understanding and integrating local nuances, like those of Utah, can offer a competitive edge. A Utah-centric design, combined with SEO, ensures businesses cater to their primary audience effectively.
Conclusion: Utah Web Design and SEO – Better Together
Understanding the symbiotic relationship between web design and SEO is vital for Utah businesses. To thrive online, especially in a competitive market like Utah, harmonizing these elements can lead to better visibility and user engagement.
Actionable Takeaway: If you're a Utah business, evaluate your web design and SEO strategy. Do they resonate with the local audience? If there's room for improvement, consider a localized revamp. Share your experiences and insights about how Utah web design has shaped your SEO journey!